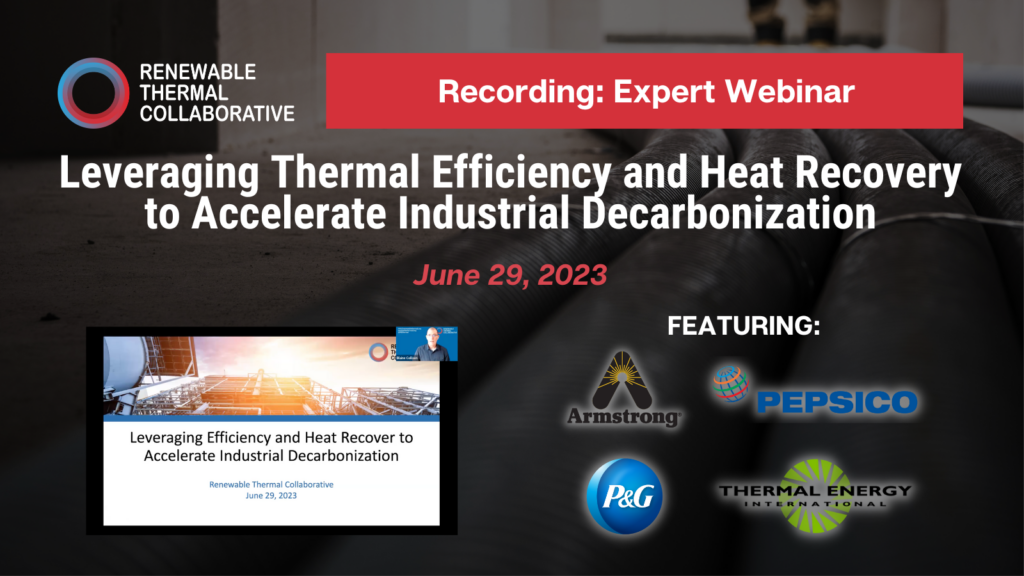 On Thursday, June 29 the RTC held an expert panel discussion on thermal efficiency, waste heat recovery, and related strategies as drivers and accelerators of renewable thermal deployments and industrial decarbonization.
The discussion featured RTC members Procter & Gamble and PepsiCo alongside strategic thermal solutions providers
Armstrong International
and Thermal Energy International. They covered:
The economic and GHG impacts of thermal energy efficiency and waste heat recovery;
Financial considerations for these types of projects; and
How to address implementation hurdles and successfully deploy projects.
Our experts shared their insights and case studies from their work.
For companies working toward Scope 1 GHG reduction goals, waste heat recovery, de-steaming, and thermal efficiency can help enable and ensure success for subsequent electrification, industrial heat pump, solar thermal, thermal energy storage, and fuel-switching projects.
Speakers:
Blaine Collison, RTC Executive Director (moderator)
Andy Lempera, P.E., PBNA Supply Chain Sustainability Director, PepsiCo
Patricia Provot, President, Armstrong International
Steve Skarda, Climate Technology Innovation Senior Director, Procter and Gamble
Robert Triebe, Chief Operating Officer, Americas and Asia, Thermal Energy International