Renewable Natural Gas (RNG)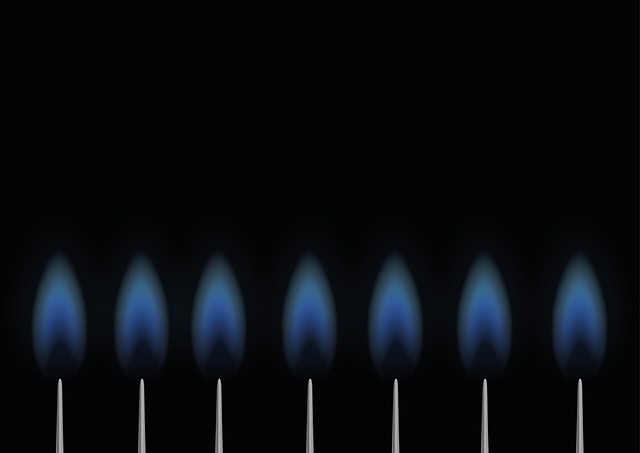 Renewable Natural Gas (RNG) – also known as Biomethane – is biogas that has been processed to remove impurities and non-methane elements such as carbon dioxide, sulfur, and heavy metals. Biogas is the natural result of decomposing organic matter such as manure, food waste, and agriculture waste, and can be collected from landfills, dairy farms, and wastewater treatment plants. Once biogas has been refined and upgraded to RNG, it is functionally interchangeable with fossil natural gas and can be dropped into existing pipeline and vehicle infrastructure.
RNG is a zero-carbon fuel source; when burned, it releases only the carbon dioxide that the organic matter feedstock absorbed from the atmosphere. Collecting biogas for RNG also has the added benefit of reducing atmospheric methane venting. Because RNG takes advantage of existing fossil fuel infrastructure, it can be a compelling renewable bridge fuel to replace fossil gas consumption.
What is the RTC doing?
The RTC is assessing the current state of the global industrial, commercial, and institutional RNG market, identifying barriers to accelerated industrial deployment of RNG, discussing solutions to those barriers, and identifying priorities for RTC engagement. The RTC is convening an RNG working group through Spring of 2023 comprised of natural gas utilities, commercial buyers, RNG developers, and natural gas associations to create a Technology Action Plan and Partnership (TAPP). The TAPP will identify the market, policy, and technology actions the RTC should take over the next three years to accelerate RNG deployment, with a detailed plan established for year one.
The RTC will also produce two RNG case studies.
Selected materials and webinars
Case Study: University of California Renewable NaturalGas/Biomethane Procurement
Together with direct electrification, energy efficiency, and renewable electricity projects, the University of California1 (the University or UC) is procuring biomethane to replace 40% of its natural gas needs. This biomethane procurement strategy is an integral part of the University of California's plan to reach net zero Scope 1 and Scope 2 emissions by 2025.
Webinar: California Renewable Natural Gas Standard
On February 24th, the California Public Utilities Commission (CPUC) set renewable natural gas (RNG) supply requirements for California utilities. Gas utilities are required to supply increasing amounts of RNG to residential and commercial customers; 12% RNG by 2030. This standard is the first of its kind in the United States.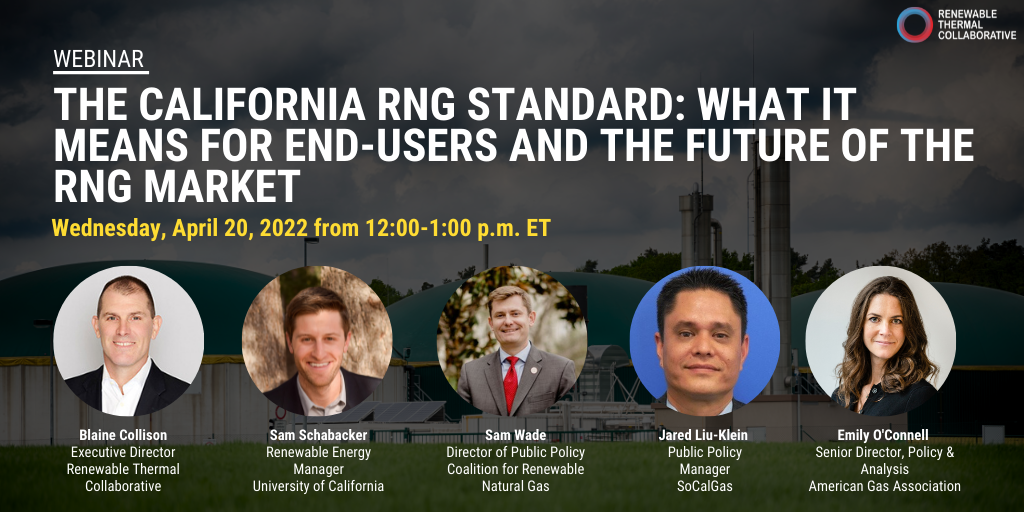 These work streams are developed with and informed by our
members
and
sponsors
. We regularly convene focused working groups to collaborate on this work. To join us in driving forward renewable thermal technologies,
become a member or sponsor of the RTC
. Existing members and sponsors may join this workstream at any point.
Find providers offering RNG solutions: