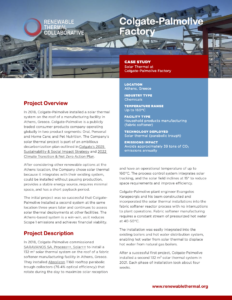 To advance their decarbonization goals, RTC member Colgate-Palmolive installed a solar thermal system, built by RTC sponsor Absolicon, on the roof of a home goods manufacturing facility in Athens, Greece. After considering other renewable options, Colgate chose solar thermal because it integrates with their existing system, could be installed without pausing production, provides a stable energy source, requires minimal space, and has a short payback period.
The project shows how renewable thermal installations can be a win for both decarbonization and financial objectives. The system's installation avoids 39 tons of Scope 1 emissions each year, contributing to Colgate's 2025 Sustainability & Social Impact Strategy and 2022 Climate Transition & Net Zero Action Plan. The project also resulted in net cost savings, with a short project payback period and a double-digit rate of return.
The RTC's case study on the project highlights:
The project and its outcomes
Industrial solar thermal technology
Integration with other technologies such as heat recovery
Colgate-Palmolive's decarbonization commitment
Lessons learned
Next steps for interested buyers
Fill out the form below to download the case study.