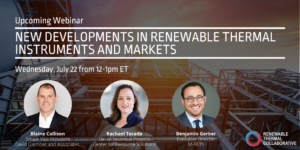 Thermal energy stakeholders consistently point to the need for instruments and markets similar to Renewable Energy Certificates (RECs), which have proven invaluable in enabling and accelerating renewable electricity transactions in both voluntary and compliance markets.
M-RETS and the Center for Resource Solutions (CRS) have made significant progress towards developing renewable thermal certificate (RTC) markets.
On July 22, 2020 from 12-1pm ET, the Renewable Thermal Collaborative hosted a webinar that focused on these recent developments in the North American renewable thermal market.
Speakers included:
Ben Gerber, Executive Director of M-RETS

Rachael Terada, Director of Technical Projects at CRS 

Blaine Collison, Senior Vice President, David Gardiner and Associates (facilitator)
A recording of the webinar is available here.