All information and material on this page were provided by Absolicon Solar Collectors, a Renewable Thermal Collaborative sponsor. The Renewable Thermal Collaborative does not endorse any company or that company's products or services. This page is for educational and informational purposes only. If you have any questions, please contact Blaine Collison at blaine@dgardiner.com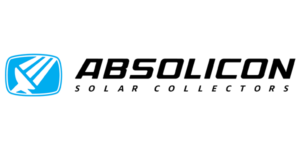 At Absolicon, we revolutionize the heat supply by developing record-breaking solar technology.
Born in 2005 as an R&D company in renewable technology, Absolicon has developed over the years into a business company with partners all over the world.
Absolicon industrial heating turnkey solutions reduce the existing heating cost, prevent CO2 emissions, and ensure energy security, helping industries to meet their sustainability goals in the most cost-effective way.
Important applications include industries, district heating and residential properties with large energy need all year long.
By developing, manufacturing, and selling solar energy systems that generate renewable energy in various forms, we are helping to solve the world's energy problem.
For more information about Absolicon, please visit www.absolicon.com.
Absolicon Solar Collector AB
Fiskaregatan 11, SE-871 33, Härnösand, Sweden
Phone: +46 611-55 70 00
E-mail: sales@absolicon.com