This page is part of the Virtual Exhibit Hall for the Renewable Thermal Collaborative 2020 Summit. Learn more about the conference and check out other virtual exhibitors on the Exhibit Hall page on the Summit website. Exhibitors will also be available to meet with attendees through the Attendee Portal via AttendeeHub.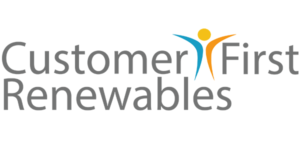 As an independent energy advisor, CustomerFirst Renewables (CFR) helps impact-oriented businesses and institutions move confidently toward a decarbonized energy future. We work with you to adopt a tailored approach to energy supply management to achieve your goals. Since 2010, CFR is proud to be a sponsor of the Renewable Thermal Collaborative and is committed to helping scale-up renewable heating and cooling to enable businesses and institutions to expand their impact and achieve carbon neutrality.
Building on a 10-year track record, CFR has served +50 large corporate, institutional and government clients, including McDonald's, Corning, Royal DSM, Arizona State, George Washington University, Michigan State, MIT, University of Arizona, Boston Medical Center, the US Army, and many others.
CFR provides industry-leading advisory services on energy strategy, procurement, and organizational implementation, including:
Developing actionable strategies
Creating and assessing organizational energy and associated carbon goals
Developing an integrated perspective on demand-side solutions, conventional and renewable energy supply, micro-grids and storage
Educating stakeholders on the vast landscape of solutions available to meet goals
Building stakeholder alignment and organizational buy-in
Implementing tailored solutions
Running competitive procurements
Providing technical, financial, accounting, and risk management support
Facilitating contracting
Optimizing performance over time
Monitoring and optimizing energy portfolio performance with renewables
Modifying risk management strategies based on performance and risk appetite
Learn more about our approach here.
Contact Information
Anushree Kedia, Associate
akedia@customerfirstrenewables.com
(240) 257 8815
Please visit us online here: