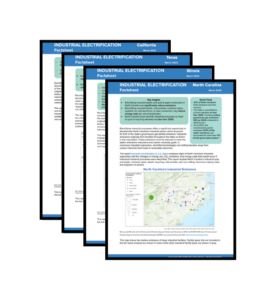 Meeting the United States' goals of reducing carbon emissions 50-52% by 2035 requires a concentrated effort to develop and deploy clean technologies across sectors. The country's industrial sector poses a serious challenge: while the share of renewable energy used to generate electricity continues to grow, so does the use of thermal energy to produce heat. Previous analyses, including the Renewable Thermal Vision Report, have identified an opportunity to reduce thermal emissions through electrification, leveraging the rise of renewable electricity to power industrial processes.
The report Industrial Electrification in U.S. States, created by Global Efficiency Intelligence (GEI) and David Gardiner & Associates (DGA), analyzes a handful of industries and the impact electrification would have on their energy use, emissions, and energy costs. However, because industrial facilities, policy, and renewable energy resources vary across geographies, this study takes a state-by-state approach, zeroing in on 20 states with large industrial sectors.
Alabama
California
Colorado
Florida
Georgia
Illinois
Indiana
Iowa
Kentucky
Louisiana
Michigan
Minnesota
North Carolina
Ohio
Oklahoma
Oregon
Pennsylvania
Texas
Washington
Wisconsin
All selected states are among the top 20 industrial energy-consuming states in the U.S., except for Colorado and Oregon which were included because of their forward-looking energy and climate policies.
These factsheets outline for each state which sectors can reduce emissions the most through electrification, the technologies available for those sectors, and the geographic distribution of emissions by sector. Finally, each factsheet identifies key actions policymakers and other stakeholders can take to electrify industry in the state.
Fill out the form below to access the Industrial Electrification in U.S. States Factsheets: