All information and material on this page were provided by Kyotherm, a Renewable Thermal Collaborative sponsor. The Renewable Thermal Collaborative does not endorse any company or that company's products or services. This page is for educational and informational purposes only. If you have any questions, please contact Blaine Collison at blaine@dgardiner.com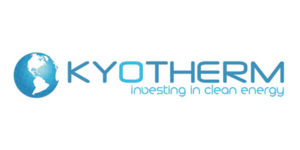 Kyotherm is an investment company that specializes in the financing of renewable heat production projects (waste heat, Combined Heat and Power, geothermal heat pumps, biomass boilers, solar heat for industrial process, etc.) and energy performance contracts (variable speed drives, lighting, HVAC systems, etc.), notably in the industrial sector.
Kyotherm originally started in Europe and now also provides financing in the US where it has financed a waste heat recovery project in 2021. Its team has developed a leading expertise in financing energy efficiency projects in collaboration with energy service companies, technology providers and developers, under "Energy-as-a-Service" or "Savings-as-a-Service" agreements. Kyotherm owns and manages 230 MW of energy efficiency projects (waste heat recovery, geothermal, solar thermal, biomass, heat pumps, LED, etc.) in 9 different countries that will generate about 1,450,000 metric tons of CO2 savings over 20 years.