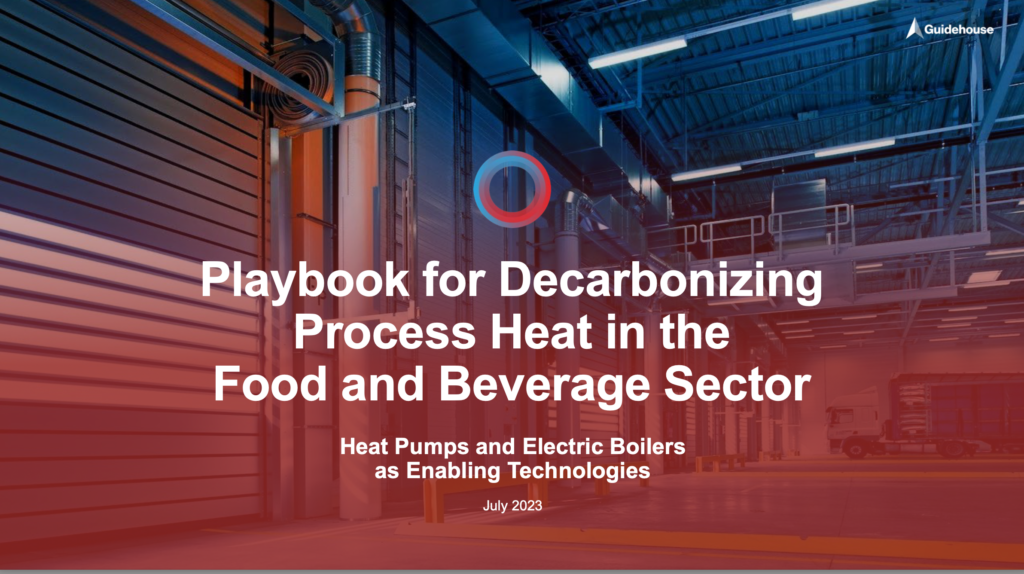 In the U.S., food & beverage processing produces more emissions from industrial heat use than any other sector outside of refineries, chemicals, or iron & steel. 97% of the heat in this sector falls in the low-temperature range, making electrification with heat pumps and electric boilers a promising opportunity for cutting emissions in the near-term. According to the Renewable Thermal Vision Report, by 2050, electrification will be able to provide more than 85% of the process heat in the sector, mostly from heat pumps.
To accelerate decarbonization in this critical sector, the World Wildlife Fund (WWF) and Guidehouse co-authored the Playbook for Decarbonizing Process Heat in the Food and Beverage Sector on behalf of the Renewable Thermal Collaborative (RTC).
This playbook:
Assesses major technology, market, and policy barriers to adoption of heat pumps and electric boilers.
Recommends priority actions for each stakeholder group so that they can leverage opportunities with heat pumps and electric boilers to decarbonize process heat in the food and beverage sector.
Provides corporate energy buyers with a set of concrete, actionable recommendations on how to switch to heat pumps and electric boilers at their facilities to reduce GHG emissions and realize a cleaner energy supply.
Fill out the form below to download the Playbook for Decarbonizing Process Heat in the Food & Beverage Sector: