This page is part of the Virtual Exhibit Hall for the Renewable Thermal Collaborative 2020 Summit. Learn more about the conference and check out other virtual exhibitors on the Exhibit Hall page on the Summit website. Exhibitors will also be available to meet with attendees through the Attendee Portal via AttendeeHub.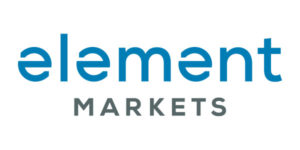 Founded in 2005, Element Markets is the leading independent marketer of environmental commodities in the U.S., helping clients meet compliance mandates and voluntary targets in a world shifting to renewable and low carbon resources.  We are at the forefront of the clean energy revolution as a major provider and marketer of carbon credits and renewable natural gas (RNG) for universities, Fortune 100 companies, and municipalities. Since our founding, we have transacted over $3 billion in environmental commodities. Within our full-service biomethane marketing business, we have a broad portfolio of RNG projects along with deep experience in low carbon intensity ("CI") fuels and their applications to renewable thermal initiatives.
Since 2012, Element Markets has been the leading provider of Renewable Natural Gas to sustainable buyers. The company has deep experience in creating tailored RNG solutions for meeting Scope 1 reduction goals, and can guide clients on RNG investment opportunities taking advantage of Renewable Fuel and Low Carbon Fuel Markets.
Handouts
"Building Green Markets" from Environmental Finance Magazine
Renewable Natural Gas Infographic
Contact Information
Randall Lack, Co-President
281.207.7200
Visit us online: