All information and material on this page were provided by SunDrum Solar, a Renewable Thermal Collaborative sponsor. The Renewable Thermal Collaborative does not endorse any company or that company's products or services. This page is for educational and informational purposes only. If you have any questions, please contact Blaine Collison at blaine@dgardiner.com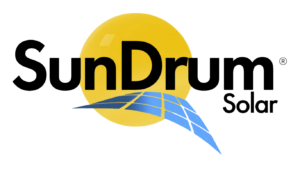 SunDrum® Solar's patented HarvestHP® technology improves the impact, utility, and value of solar energy systems. SunDrum converts conventional photovoltaic (PV) panels into high-powered, hybrid thermal solutions capturing over 90% of the sun's energy. SunDrum Systems generate 6x more energy to meet heating and cooling demands with fewer panels and less space.
SunDrum combines PV, solar thermal, and heat pump technology, providing heating when the sun is bright or dim, rain or shine, day or night. During the day, SunDrum Collectors pull heat from PV panels to provide space and water heating. At night or when the sun is dim, the integrated heat pump provides heating at industry-leading efficiencies and cooling that displaces heat to the atmosphere, thereby cooling the planet.
SunDrum is compatible with most PV panels, and can be installed via retrofit or as part of a new system. SunDrum systems provide electrical and thermal energy to heat pumps that can reliably provide heating up to 180F 24 hours a day to reliably service industrial, and commercial applications.
SunDrum Solar provides Good Energy for Good People. Contact us to get more from your energy solutions.
Michael Intrieri, CEO
469 River Rd, Hudson, MA 01749
Email Address: info@sundrumsolar.com