All information and material on this page were provided by Bullfrog Power, a Renewable Thermal Collaborative sponsor. The Renewable Thermal Collaborative does not endorse any company or that company's products or services. This page is for educational and informational purposes only. If you have any questions, please contact Blaine Collison at blaine@dgardiner.com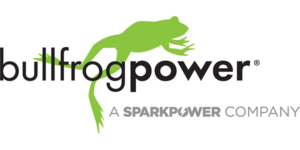 Bullfrog Power is a Canadian business with a conscience. The organization's mission is to provide Canadians with easy and practical 100% renewable energy solutions for their homes, businesses and transportation that empower them to create a sustainable world for future generations. A double-bottom line organization, Bullfrog Power donates 10% of its profits to organizations that support sustainability. In Bullfrog's view, this is business as it should be—good for society as well as its shareholders.
Bullfrog's green electricity comes exclusively from wind and hydro facilities that have been certified as low impact by Environment Canada under its EcoLogo program—instead of from polluting sources like coal, oil, natural gas and nuclear. A clean, renewable alternative to fossil-fuel based natural gas, Bullfrog's green natural gas is produced in Canada from biogas facilities that have met strict environmental criteria as defined by ICF International. By choosing Bullfrog Power's green energy, homes and businesses can reduce their environmental impact, support the development of new renewable generation in Canada and help to create a cleaner world for today and tomorrow.
Bullfrog Power Customer Experience Team 
Email Address: info@bullfrogpower.com
Phone: 1-877-360-3464