This page is part of the Virtual Exhibit Hall for the Renewable Thermal Collaborative 2020 Summit. Learn more about the conference and check out other virtual exhibitors on the Exhibit Hall page on the Summit website. Exhibitors will also be available to meet with attendees through the Attendee Portal via AttendeeHub.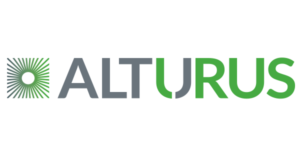 Alturus provides comprehensive energy infrastructure advisory and financing services to large commercial and industrial energy users. These services, which include the planning and development of combined heat and power as well as energy efficiency upgrade programs, allow our customers to reduce the emissions profile and operating costs of their facilities at scale with no capital investment required. Alturus has developed a unique process for identifying, financing and implementing generation, energy efficiency and storage projects that enable customers to eliminate the internal capital approval process from their energy management program. Alturus has a strategic partnership with Generate Capital under which Generate is providing as much as $600 million in dedicated capital for sustainable infrastructure projects.
View our Alturus Overview document here.
Contact Information
Charlie Daum, Managing Director
charlie@alturus.com
612-203-9023
Please visit us online: